As a Microsoft MVP – FrontPage you participate online and answer many questions on (FrontPage) Expression Web. What started you down this road and why?
Way back, when I was just beginning to learn how to use the Internet, I wanted to make a site of my own and I decided to write about what I knew, which was an educational course I'd just done. I then found myself writing tips for FrontPage the web editor I was using as I just found it exciting discovering little known tips and tricks and my first FrontPage Tips and Tutorials site was born.
I then launched a FrontPage Ezine and started the Any FrontPage Website to go with it. More Ezines and sites followed
I thought it would be easier to make many sites about each particular niche instead of putting them all under one domain. That proved a mistake as I could not seem to keep up.
Apart from making FrontPage and making FrontPage Lists, FrontPage Ezines and FrontPage Ebooks what else do you do online?
I 'doodle' and I sell my Original Abstract Art online I also like reading SF.
Apart from this Expression Web Blog, do you have other Expression Resource sites?
Oh yes, when I first heard about Expression Web I started making a site that would encompass Expression Web Help for my readers and I also incorporated a Expression Web Designs section. Something I had been wanting to do for sometime.
Of course when I make a site I make an ezine and this time was no exception. My Expression Web Ezine started off with Tutorials Tips and News but has now settled into a Weekly Expression Web Tips Ezine. Which is the only place you can obtain the free tips. If you can't wait that long, I have a Expression Web Tips Ebook for the low launch price of $7.
I also recently relaunched this blog, because the old one was not working correctly. I decided that while I was about it I'd write down my experiance's (more to follow) and in addition I have another one called the FrontPage and Expression Web Blog
What do you like doing best with Expression Web and Web Design in general?
I love helping people that show potential, that then go on to surpass the things I can do. I love growing in knowledge about Expression Web and Web Design in general and look back each year to see what I have learnt and what goals I want to achive for the following year. I love finding little known facts about Expression Web (and FrontPage) and then telling all and sundry. I love watching people get that light bulb moment when they figure out something they could not do before. Teaching and learning FrontPage and Expression Web and Web Design in general are my hobbies. It stops being fun when I charge people for making sites (though with some clients it can be fun). To that end I decided I would start making more ebooks and start a web template site and I have a couple of domains that I plan on developing into Template sites with a partner. (More on this at a later date).
I am married with four children and one grand-child but refuse to be called nana, nannie, grannie or anything else but Grandma! I live in a large village in Cheshire and I don't 'do' pets… or even plants!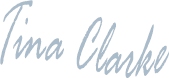 Tina Clarke, Microsoft MVP – Expression Web